For the latest CSI project I wanted to show a piece that moved a little to the left of where it started. So I dug back into my files for some pictures of an amoire I altered for a purpose other than which it was intended. Unfortunately I don't have a before shot but it was an imported piece from Mexico. It was painted a very dark steel blue over a rusty red and a swag of loosly drawn flowers had been painted in the recessed door panels. UPDATE: I just happened onto some before pictures I didn't know I had. Hopefully I can squeeze them in here.
I repainted the outside in three colors. (tan,cream and taupe) This alone was a big improvement. I opted to keep the hardware which really wasn't bad.
Let me tell you, this piece is in the bathroom and divides the tub and toliet area from the "vanity." Yes, the sink is inside the amoire. No, I did not do the plumbing or the electrical but I did do the rest.
I painted the inside of the piece. The inside of the doors had raised panels. I cut cardboard to fit each panel, padded the cardboard, and covered them with black dotted fabric using a glue gun. I wedged these pieces into each opening adding just a dab of glue for insurance.
Once the sink was in I tiled the top shelf using tiles left over from other projects. I gave it a mini splash border in black subway tile and threw in a few random black squares to pick up the black handles on the faucets.
The mirror came from my parent's house and I left the finish exactly like it was because it worked perfectly. Behind the mirror I hung a soft burgundy fabric on an expansion rod.
I will sneak in a small before pic I found of the interior.
This piece was orginally meant for an entertainment center back in the days when the television did not cover the entire wall. So instead of a VCR and tapes it now holds towels and tolietries. The drawers provide additional storage.
The lamp is really for mood lighting. On the ceiling of the cabinet I had installed two puck lights. This along with a track light on the ceiling directly in front of the amoire, provides ample light.
Here are a couple shots of what is hiding behind the amoire.
I am sharing this with
Between Naps on the Porch
for Metamorphisis Monday.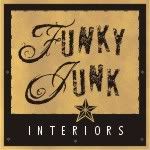 and with Funky Junk Interiors